Penthous detail
Apartments N2A.3.1
5+kitchenette180,7m23th floor
This penthouse is designed as 5 + kk. On the entrance floor there is a very spacious living room with kitchenette and dining room, three bedrooms, two bathrooms and a separate toilet for visitors. The roof pavilion is designed as a master bedroom with a separate bathroom. The rooftop terrace features a sauna and a swim spa. If you do not use the four bedrooms, you can turn the roof pavilion into a fitness and wellness area or a games room. The total layout offers 180.7 m2 of floor space. The total usable area, including terraces and roof garden, is less than 436 m2. There is a spacious cellar PENTHOUSE and two parking spaces suitable for SUV with the possibility of adding electrical charging.
Price of the apartments is garage parking places, cellar and VAT included.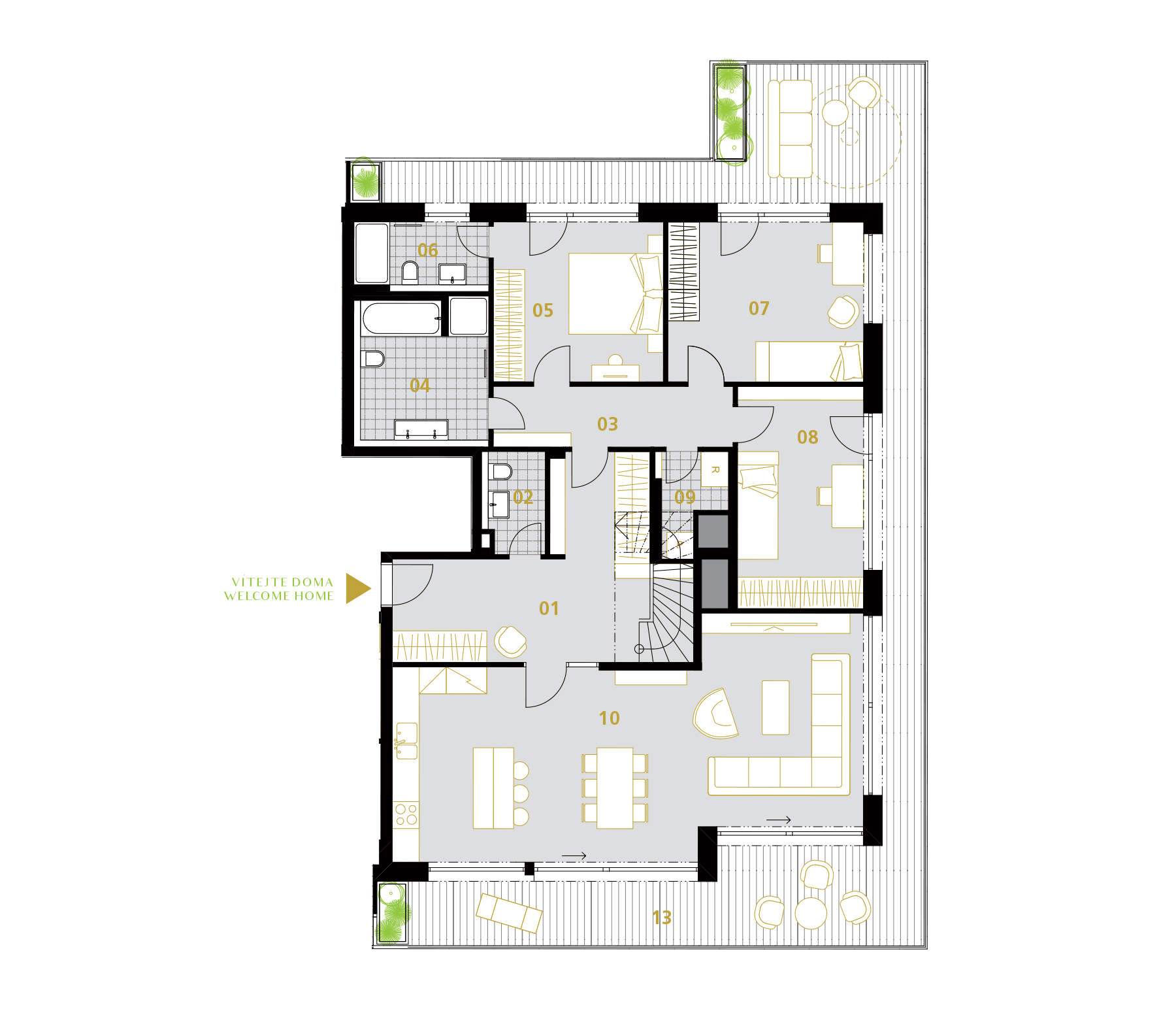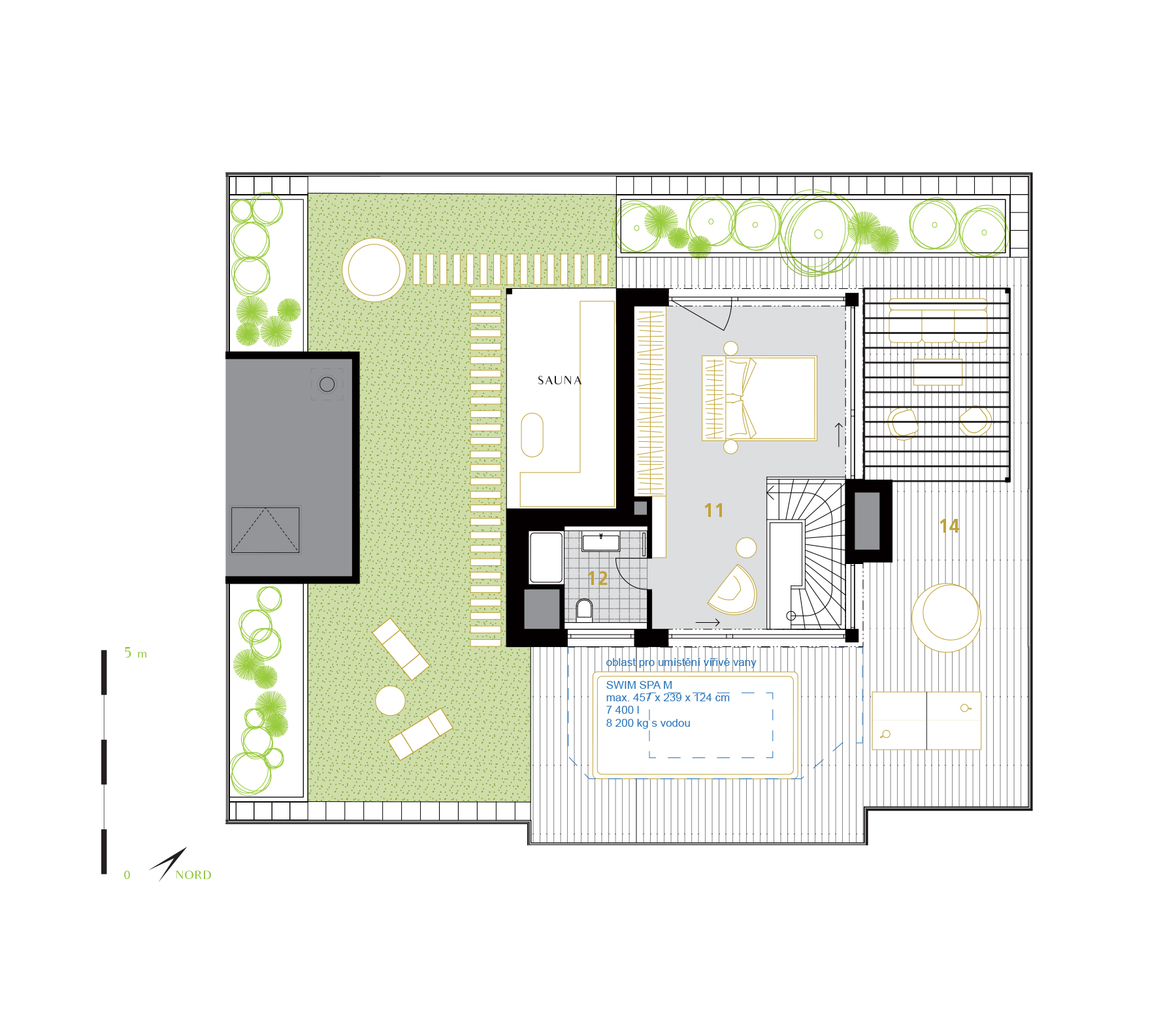 List of area
01
hall
20,6 m2
02
wc
2,8 m2
03
corridor
7,2 m2
04
bathroom
8,8 m2
05
bedroom
13,8 m2
06
bathroom
4,3 m2
07
room
16,0 m2
08
room
14,3 m2
09
chamber
2,6 m2
10
living room + kitchenette
48,4 m2
11
28,2 m2
12
bathroom
5,0 m2
Usable area
171,9 m2
Floor area
180,7 m2
13
terrace
60,6 m2
14
terrace
194,4 m2
To each apartment unit belongs a cellar, a garage space or a parking slot.
Note: Areas of individual rooms are for reference only. The furniture and kitchen unit shown are not part of the apartment. The floor formatting shown is only a graphic symbol.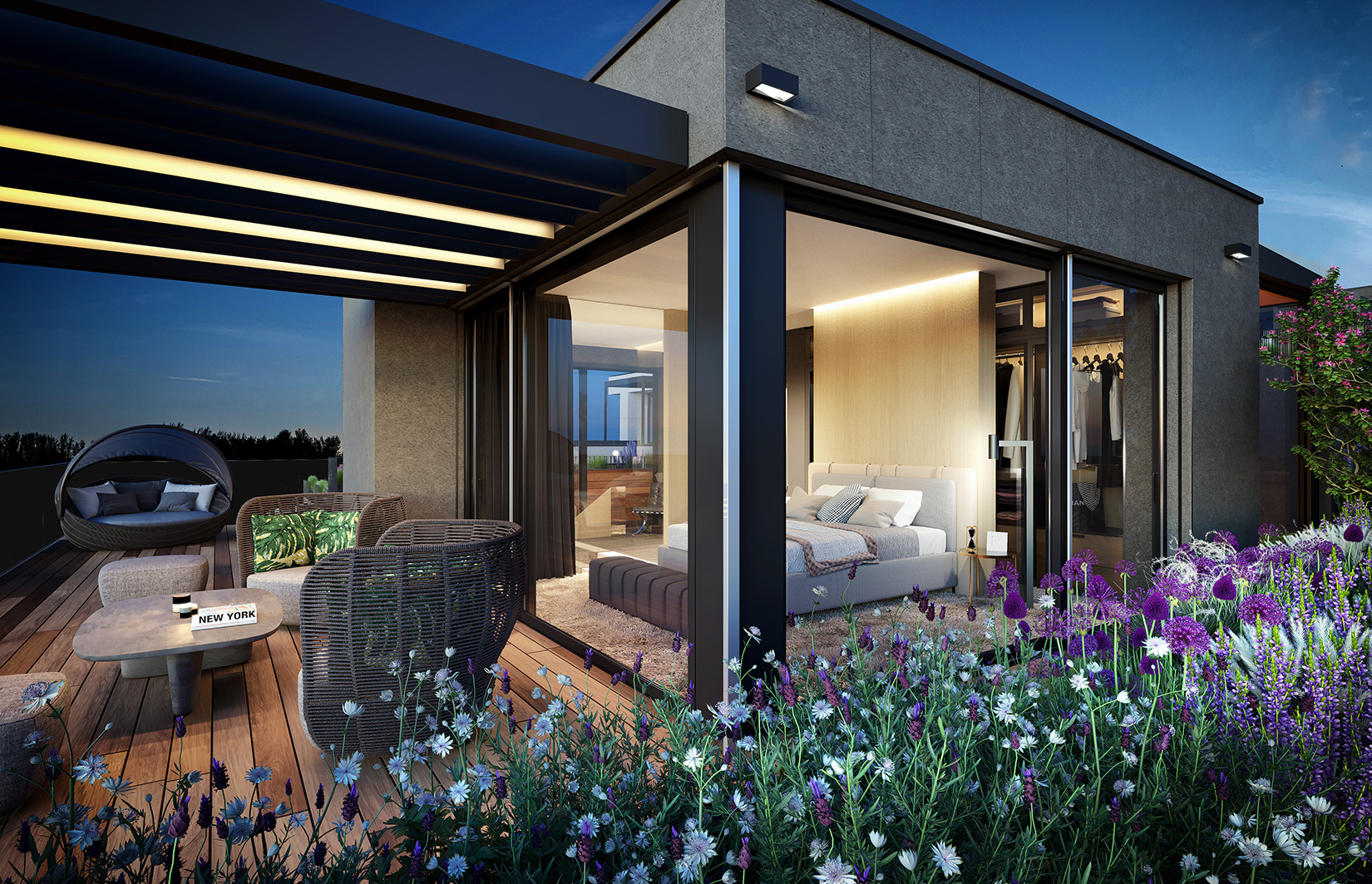 Romantic views of Prague
A spacious bedroom with a bathroom in the roof pavilion with a bioclimatic pergola will provide beautiful views of the Prague skyline.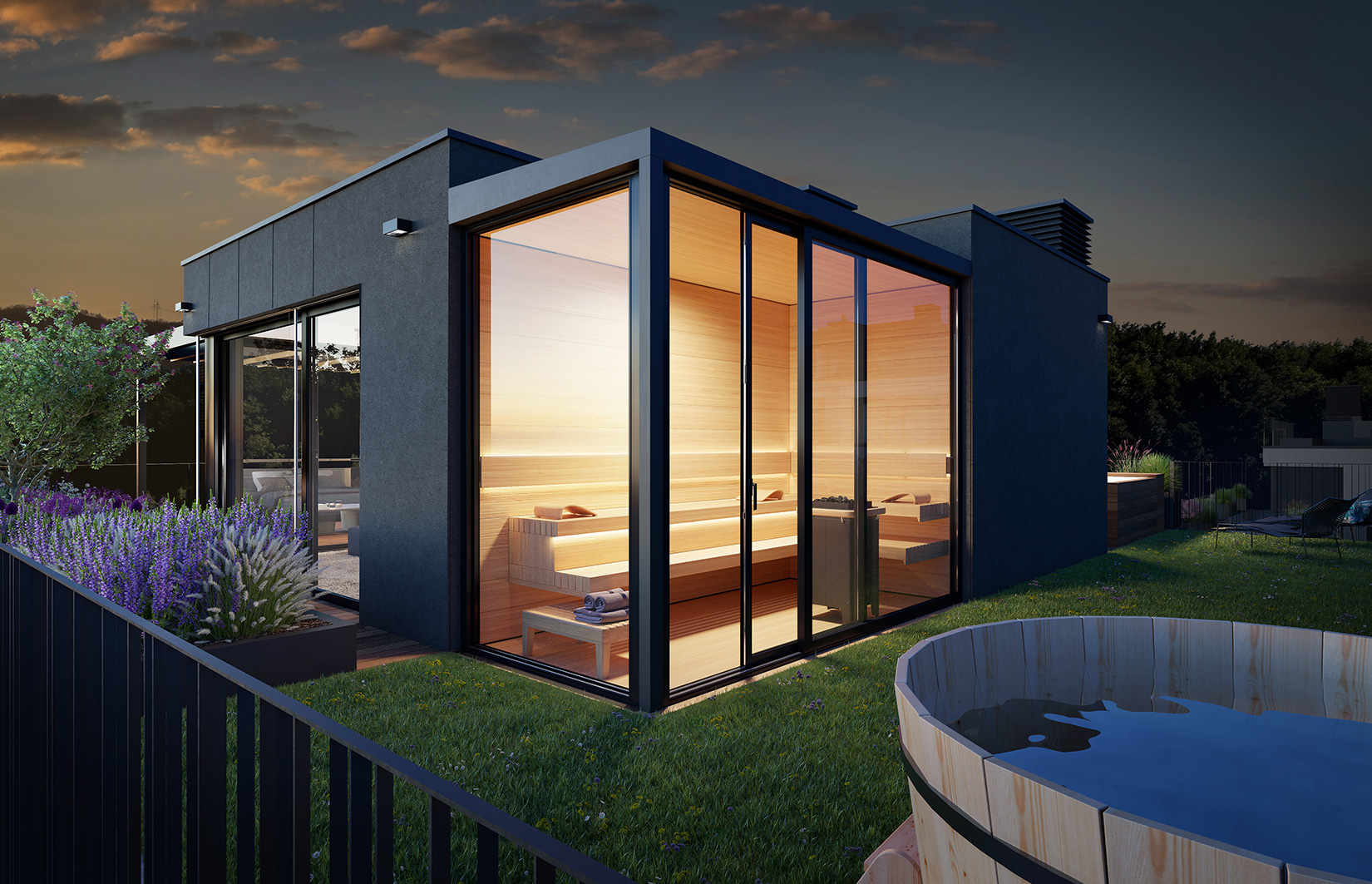 Sauna next to the bathroom
Enjoy a Finnish sauna and your own wellness facility. The layouts of the roof pavilions feature creative solutions.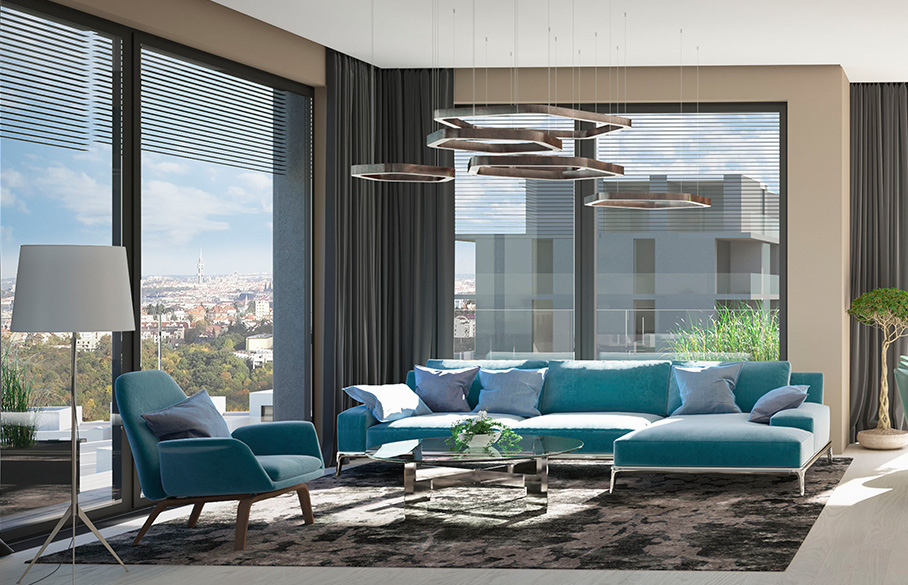 Large-format French windows
All the penthouses have large-format French windows with triple glazing as the standard.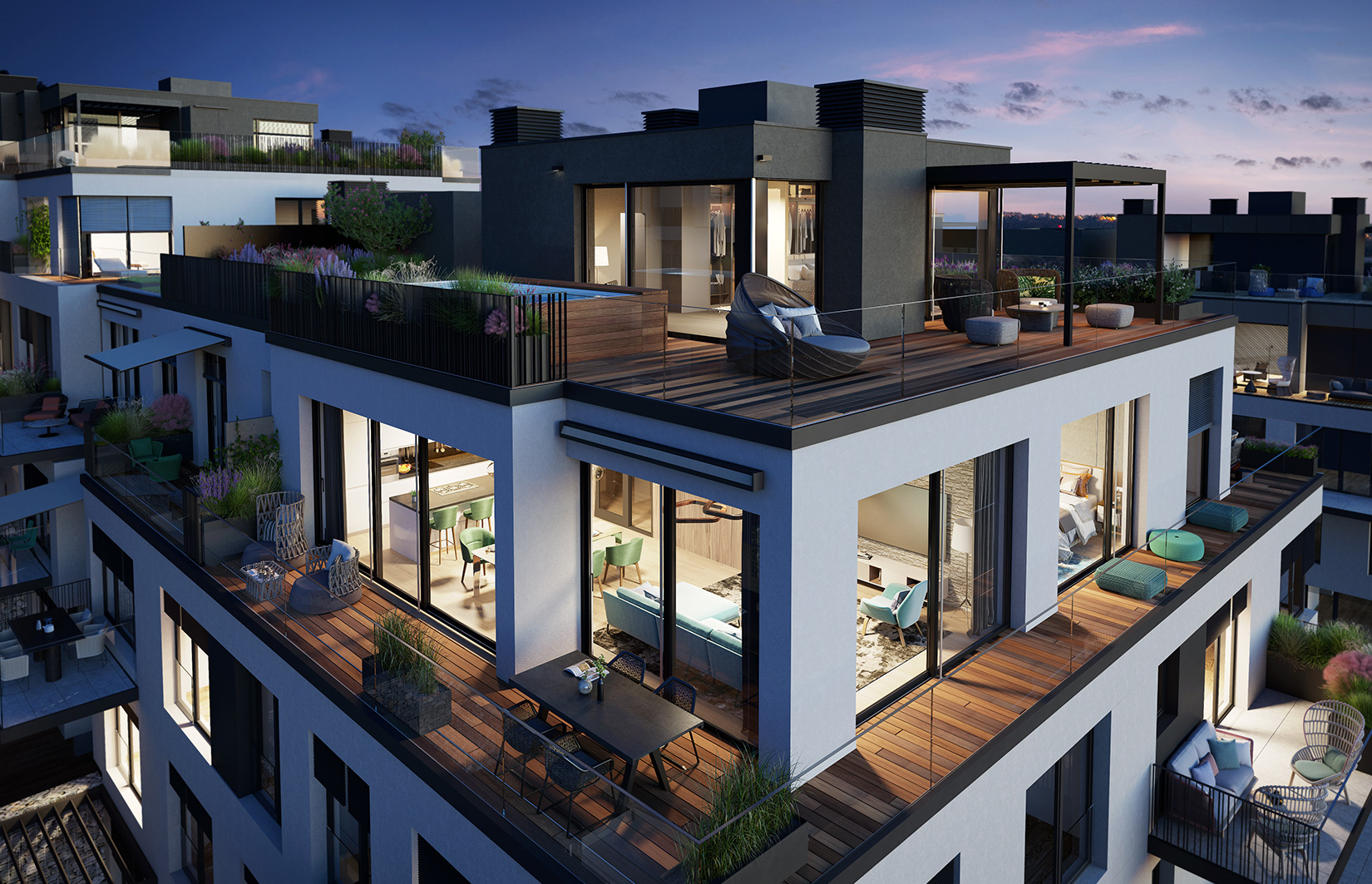 Unique layouts on two floors
This penthouse has an ideal 5+kitchenette layout with a very spacious living room and three rooms on the first floor and a master bedroom with a private wellness in the roof pavilion.