Penthous detail
Apartments N4.4.1
6+kitchenette260,8m24th floor
Located in the N4 building adjacent to the Košíře-Motol Nature Park, this exceptional two-storey penthouse provides unobstructed views of the Prague skyline. In addition to exclusive views, it has a large terrace with a living room terrace and terraces with other rooms on the 4th floor. On the 5th floor, there is a generous residential garden terrace sized for a swim-spa installation with counterflow. The rooftop pavilion, located in the roof garden, is an ideal space for a private Fitness and Wellness with a sauna. This apartment is designed for the most demanding people. You will find unique features such as a glass entrance hall with a green wall and a library, or light guides to ensure daylight in the background, such as changing rooms and closets. Space is ingeniously designed to provide maximum comfort and privacy for its residents. This PENTHOUSE includes a spacious cellar and two parking spaces suitable for SUVs with the possibility of adding electrical charging.
Price of the apartments is garage parking places, cellar and VAT included.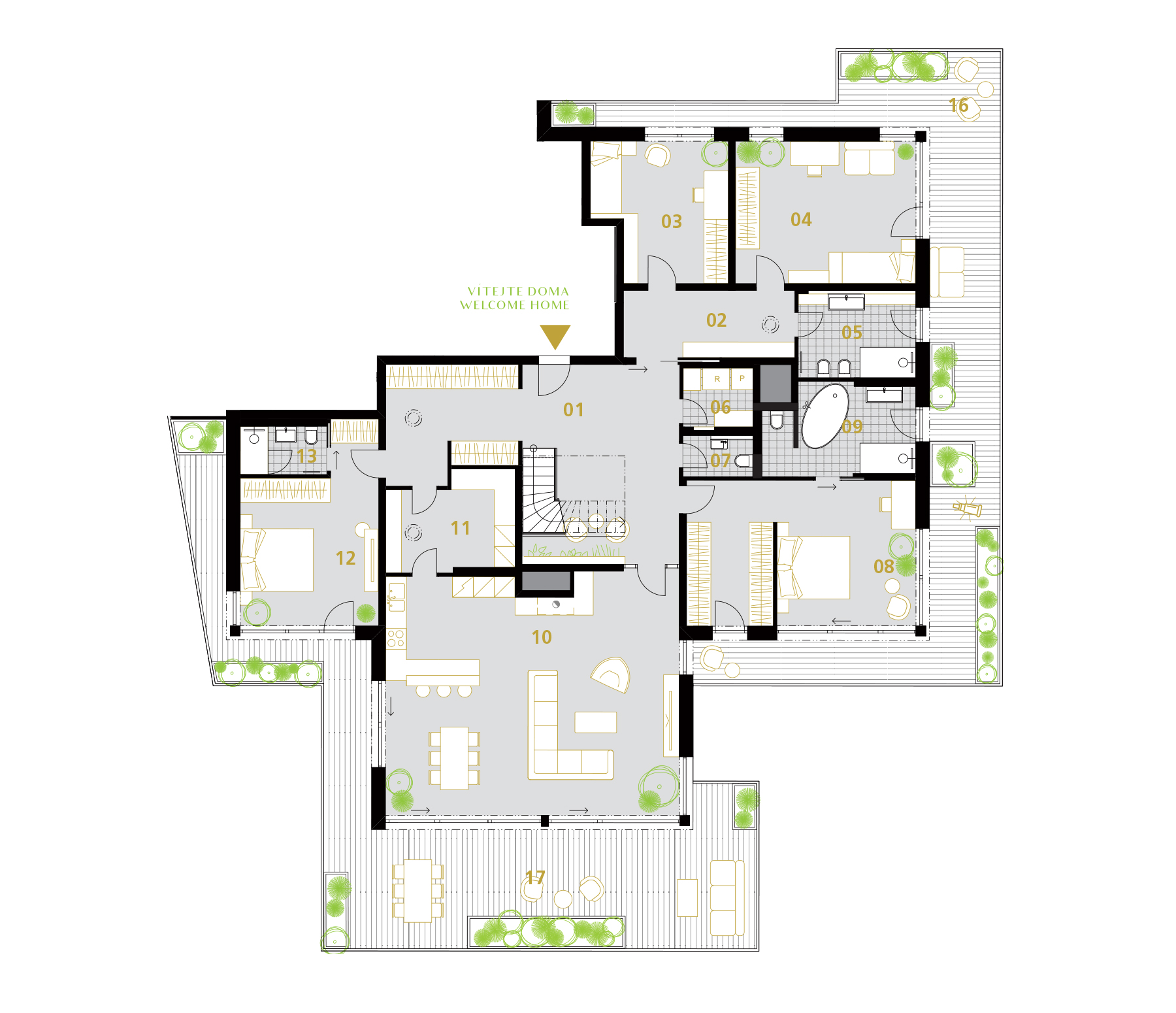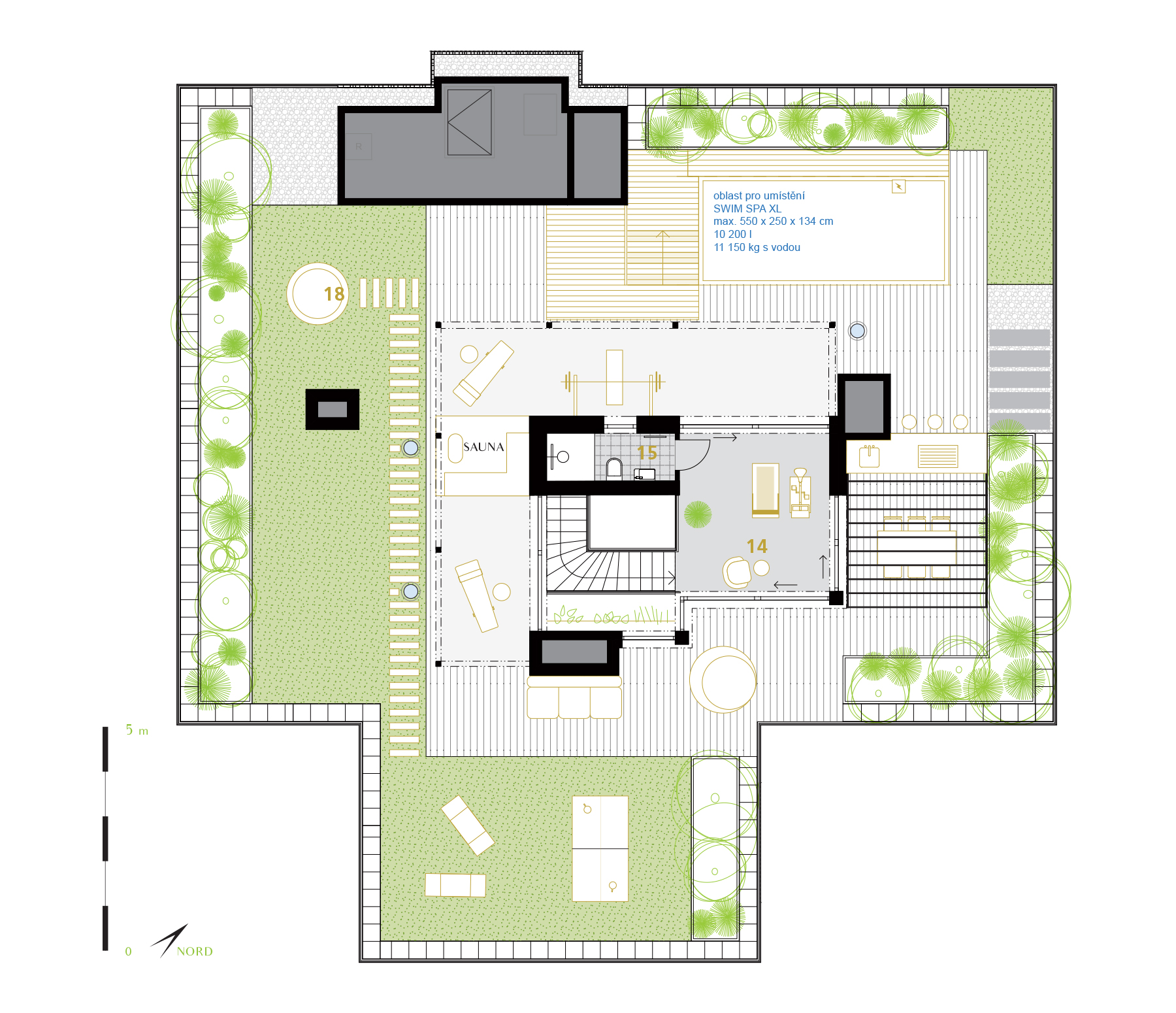 List of area
01
hall
38,4 m2
02
corridor
9,5 m2
03
room
14,7 m2
04
room
21,9 m2
05
bathroom
8,6 m2
06
chamber
3,4 m2
07
wc
2,3 m2
08
bedroom
28,4 m2
09
bathroom
10,7 m2
10
living room + kitchenette
59,5 m2
11
housework
9,8 m2
12
bedroom
19,9 m2
13
bathroom
3,5 m2
14
roof pavilion
13,9 m2
15
bathroom
3,2 m2
Usable area
247,6 m2
Floor area
260,8 m2
16
terrace
60,2 m2
17
terrace
66,4 m2
18
terrace
287,2 m2
To each apartment unit belongs a cellar, a garage space or a parking slot.
Note: Areas of individual rooms are for reference only. The furniture and kitchen unit shown are not part of the apartment. The floor formatting shown is only a graphic symbol.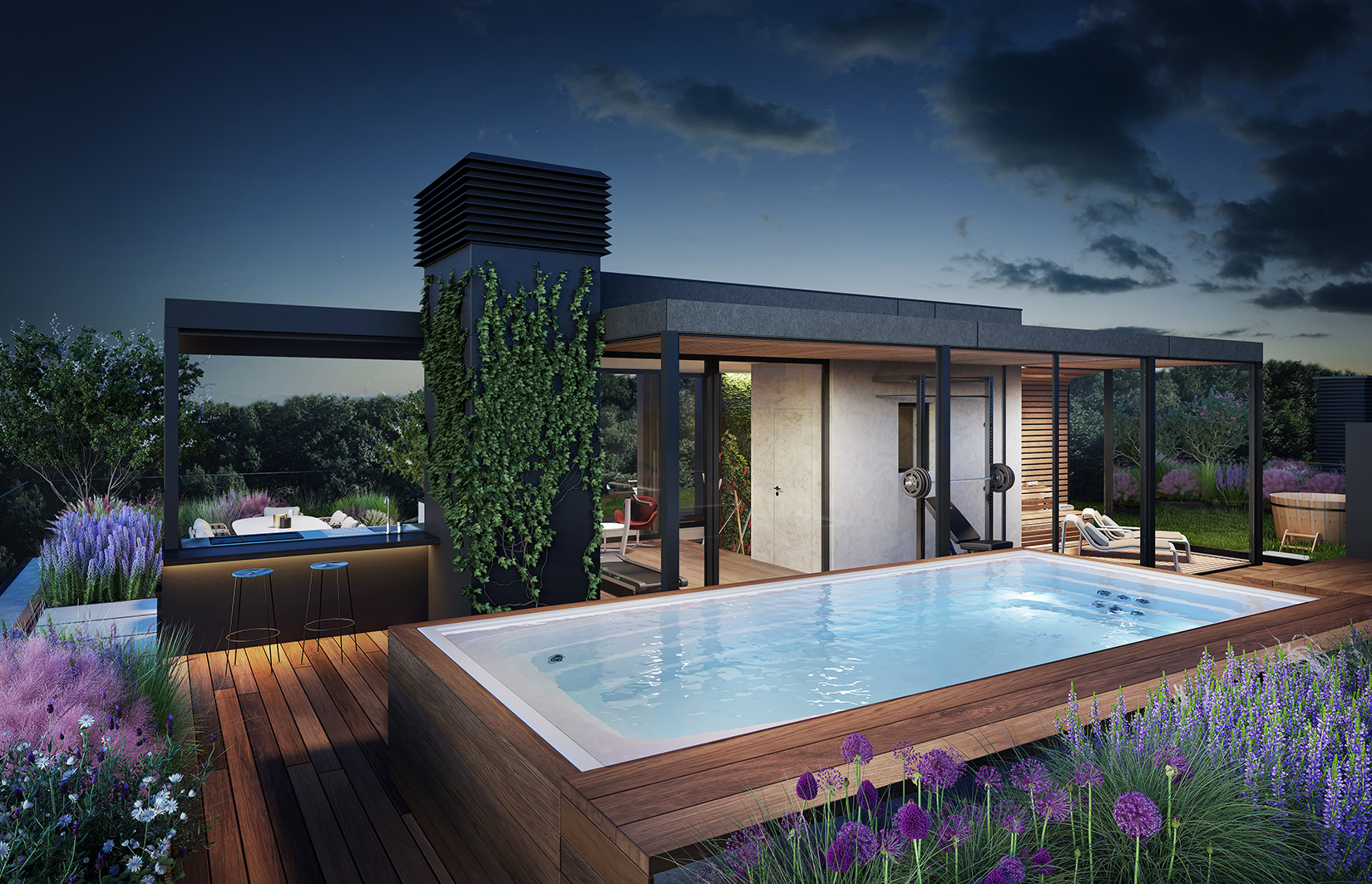 Private wellness on the roof
The roof pavilion of this penthouse enables the construction of a private wellness and fitness facility including a sauna, a relaxation room and, thanks to specially reinforced ceilings, a swim-spa with a counterflow too.
Beautiful view on Prague skyline
Enjoy everyday panoramic views of Prague city centre.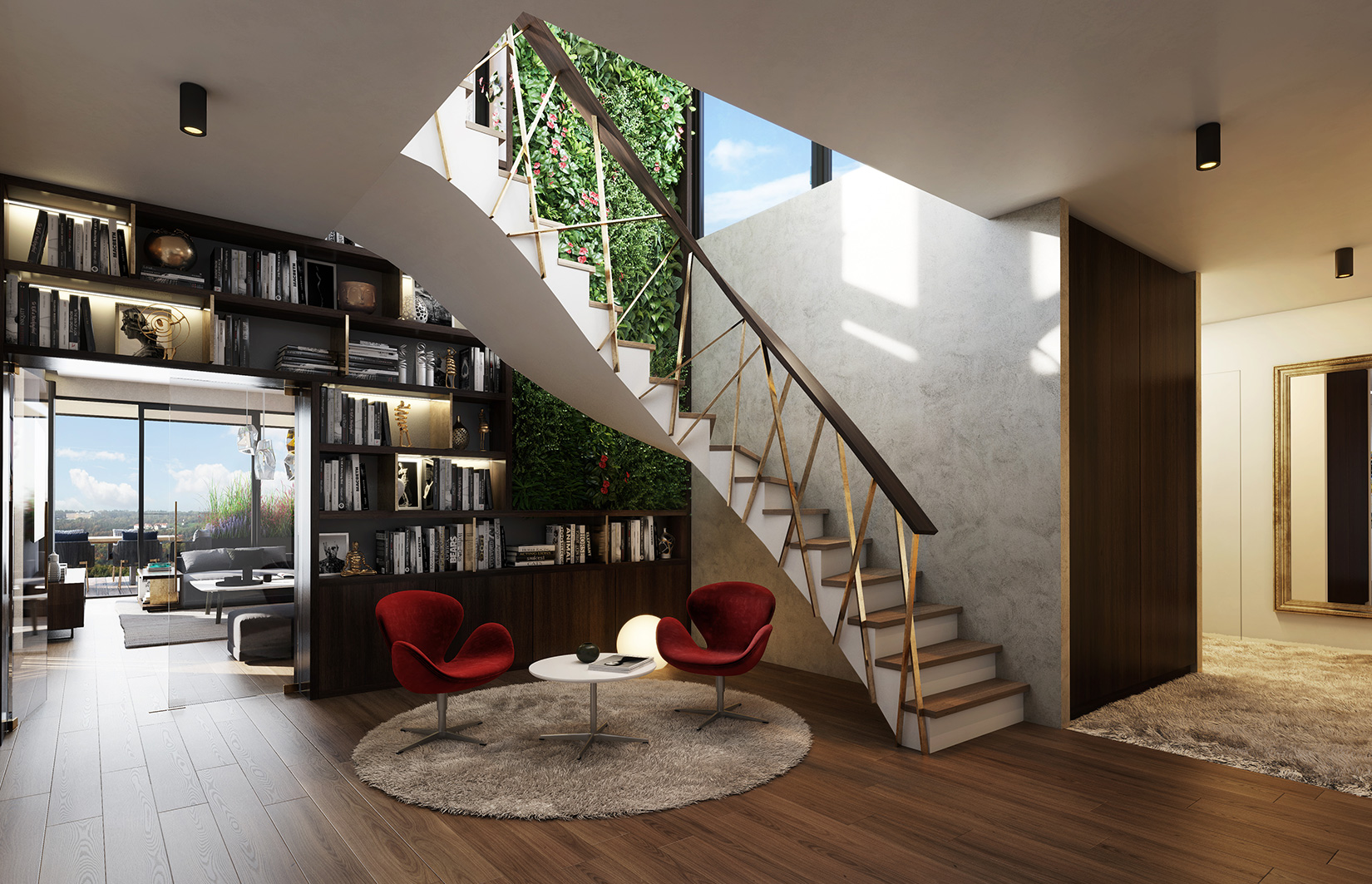 No limit
Let us present the inspiration of the design of the use of the lobby area of this generous penthouse, where a green wall (resembling a hedge) is designed.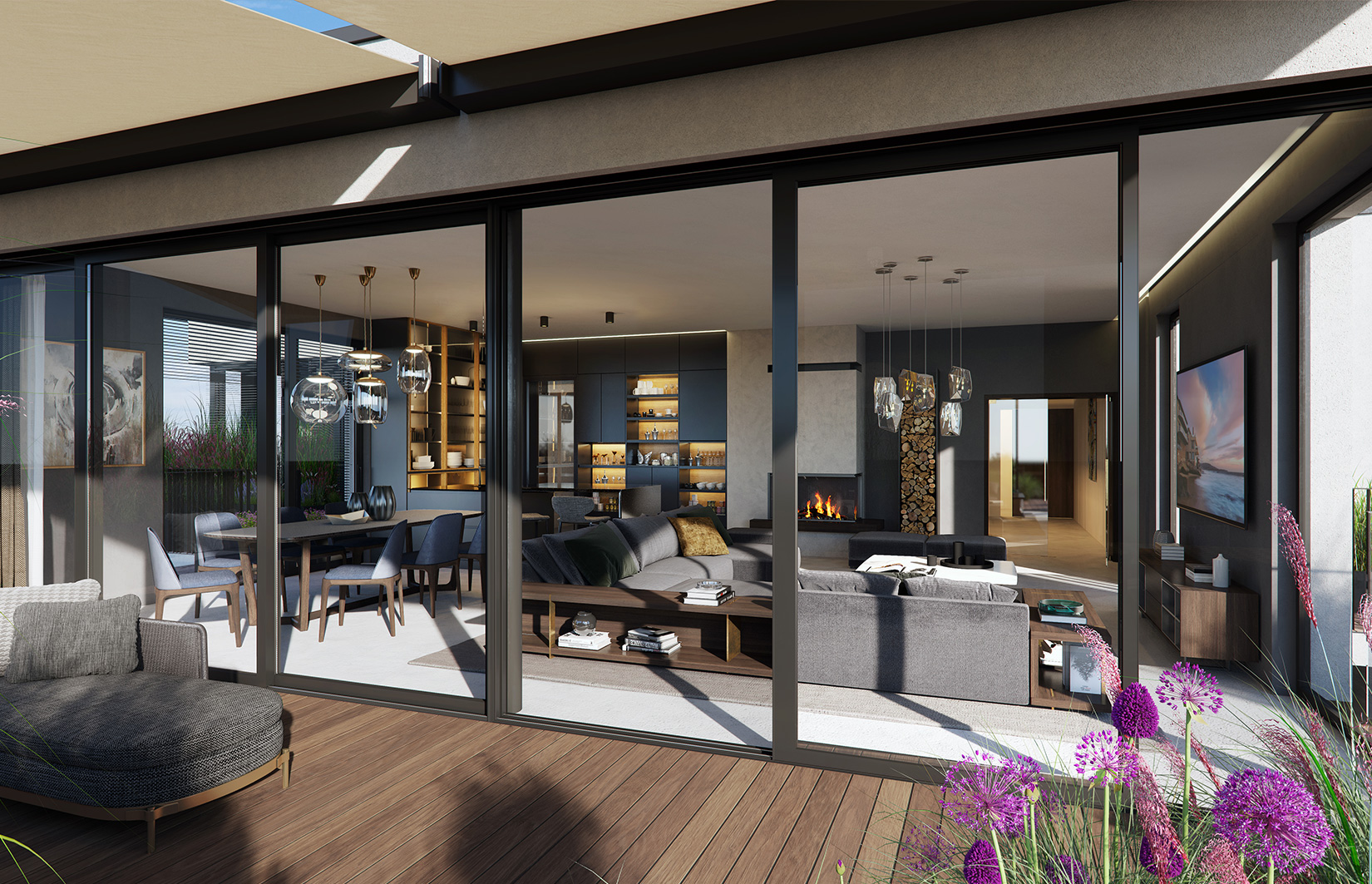 Exceptional space for life
It is up to you what standard you choose, whether you will follow the design of the project standard at all, or you will choose your architect or interior studio. Penthouses are offered after final inspection (approval) in the "white-wall" state.