top' standard in the standard
In fact, the standards at the top'rezidence are above standard. All the apartments are designed to be low-energy ones, featuring controlled ventilation with heat and humidity recovery (in summer with additional cooling), which ensures fresh air at any moment. Large-format French windows with insulating triple glazing, exterior blinds, smart control of your home, rectified wall and floor tiles, glued three-layer wooden floors, 2.2 m high, non-fold wooden doors with magnetic locks and concealed hinges, heating by floor convectors… For future penthouse owners, wall-to-wall floor heating, cooling and our Chamberlain concierge service will be the icing on the cake.
front gardens with a direct access from the semi-public sidewalk
roof terraces with a reinforced ceiling for the installation of large whirlpools and a swim spa
spacious balconies in most apartments
wooden terraces (exotic wood)
pergolas in the case of selected penthouses
grassy areas with the preparation for the installation of irrigation
grassy areas with the preparation for the installation of irrigation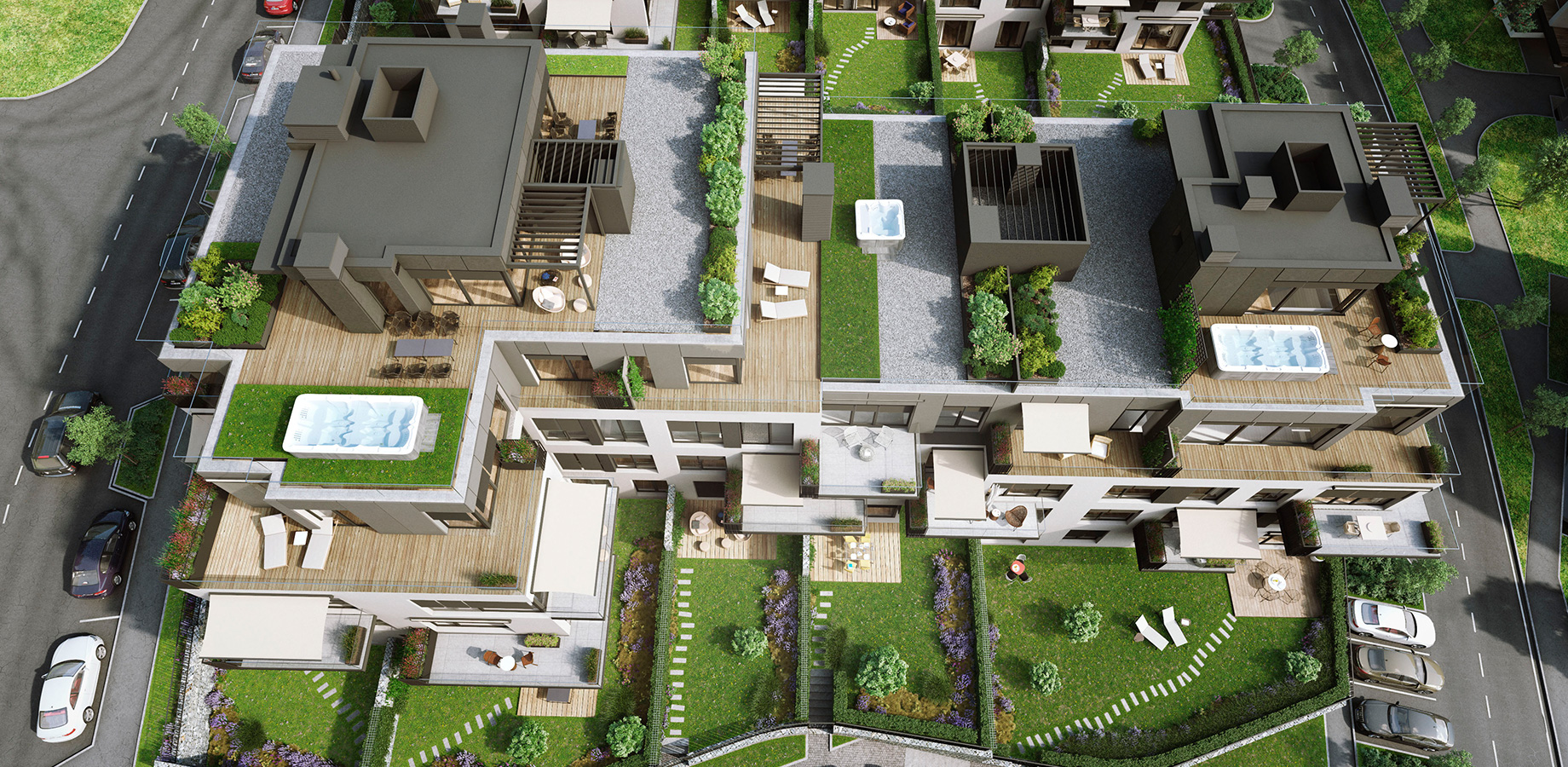 large-format wooden French windows with triple glazing
three-layer glued wooden floors with a choice of veneers
thermal insulation as a guarantee of the low-energy standard (Energy Label /PENB in Czech/ B)
aluminium, electrically operated exterior blinds, providing sun protection and enhancing privacy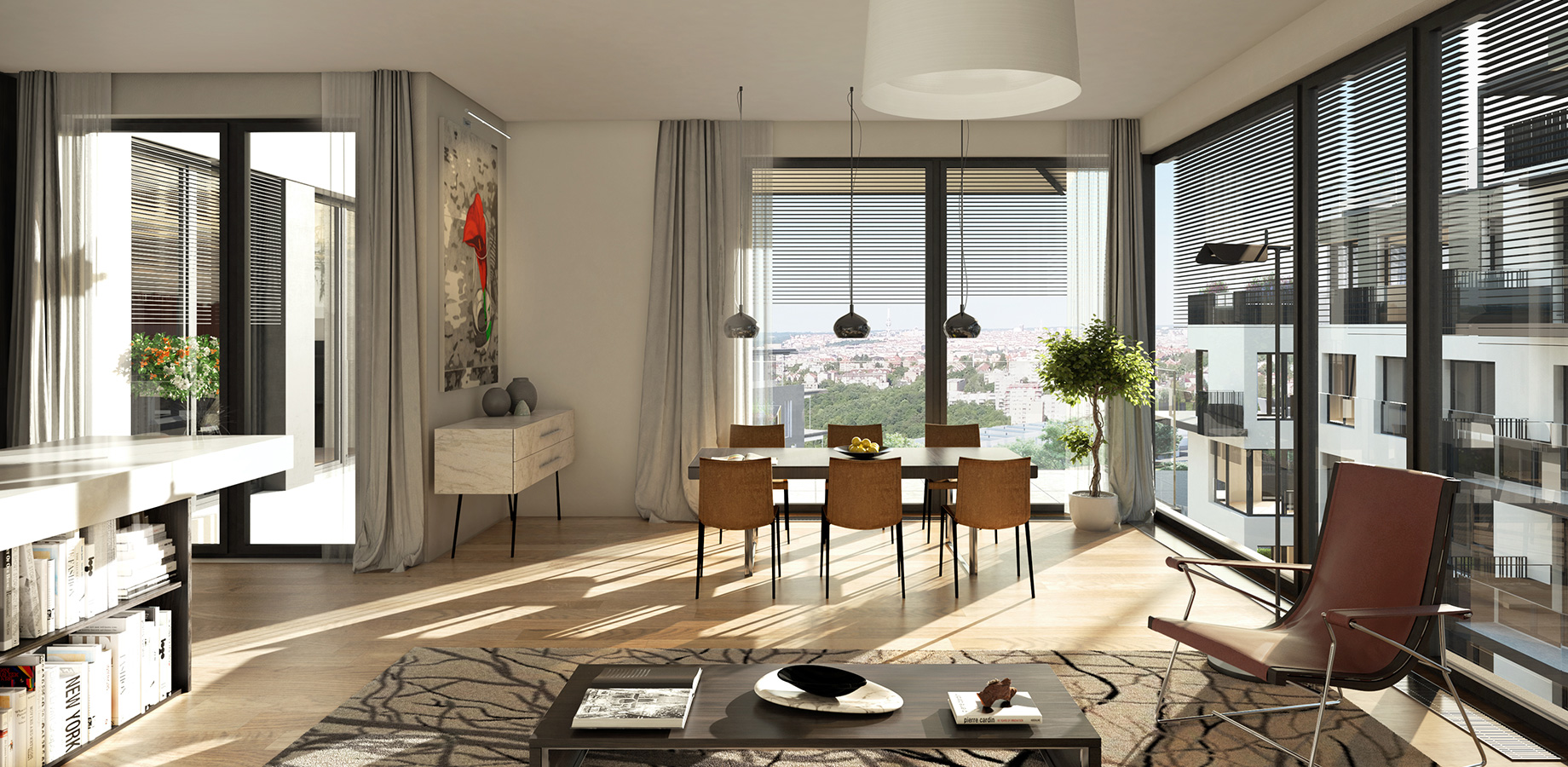 Energetic standard
low-energy apartment houses
Energy Label B
Construction structures
• construction system – solid brick, or monolithic wall system, with reinforced concrete monolithic ceilings
• peripheral and load-bearing walls – lined from blocks, or reinforced concrete monolithic walls according to the project
• inter-apartment walls – lined from blocks, or reinforced concrete monolithic walls according to the project
• floors in the apartments – anhydrite, self-levelling, or concrete floating floor on thermal and impact insulation as a base for the wear layer
• partition walls in the apartments – sand-lime blocks
• core lining – sand-lime blocks
• paintings – double, quality white paint
• plasters – smooth lime-plaster
• soffits – plasterboard constructions – bathrooms, toilets, corridors, chambers to the needy extent required by the project
Exterior private areas
• handrails – segments of glued safety glass in combination with steel elements, between front gardens dividing walls lined with Cembrit Patina panels or fence panels according to the project
• landscaping – grassing according to the architectural design, basic landscaping and planting of fences carried out
Common areas
• staircase – reinforced concrete structure, acoustically separated from other structures of the building
• wear layer – ceramic large-format rectified tiles
• entrance doors – aluminium, glazed, operated by a key and a chip
• house equipment – stainless steel doorbell with a camera, mailboxes, cleaning zones
• interior lighting – lighting fixtures with energy-saving LED lamps
• garage parking places
• entrance to the parking will be closed by sectional garage door with remote control, parking places will be marked and numbered
• penthouses – electromobile charging: one charging point for each apartment, connected from common consumption with secondary measurement
• outdoor parking space – asphalt surface
• common exterior areas – grassy areas + landscaping (bushes, trees), paved areas and interlocking-pavement paths according to the project
• outdoor elements – reinforced concrete and stone gabion walls according to the project, benches
• waste – lockable space for municipal waste
• lift – silent-running machine-less lift with a structurally separated shaft
Entrance apartment doors
Safety Class 3, with standard fire resistance and a safety lock, doorknob-handle fitting
Interior apartment doors
• solid, white lacquered (semi-matt), with lined non-fold frame, 3D hinges, magnetic lock, rosette fitting, clear height: 2.2 m
• living room door: partially glazed
Wear layers of the floors
• entrance to the apartment – ceramic tiles (range according to the project), or wooden multi-layer floors, wall-to-wall glued, cf. the rooms
• utility room / chamber – ceramic tiles, including a plinth
• living rooms, bedrooms, children's bedrooms – wooden multilayer floors, natural oak, wall-to-wall glued, including skirting boards
• access pavements to the apartments on the 1st floor – concrete or stone paving
• balconies – frost-resistant ceramic tiles
• terraces – decking of high-quality terrace boards (heat treated, or exotic wood)
• roof terraces – decking of high-quality terrace boards / grassing / pebbles
Bathrooms – furnishings
• wall-hung WC + preparation for a bidet seat
• ceramic washbasin in the toilet, approx. 48 x 28 cm
• ceramic washbasin, middle, approx. 60 x 46 cm
• ceramic double washbasin, approx. 120 x 46 cm
• enamel bathtub - min. 170 x 75 cm, a bath trap with overflow filling
• ceramic shower tray; penthouses – cast marble
• glass shower enclosure
• single lever washbasin taps, chrome; penthouses – concealed taps
• concealed shower and bathtub taps; penthouses – thermostatic taps
• at the exit to the gardens and roof terraces – frost-resistant outlet fittings installed
Bathrooms – wall and floor tiles
• large format, rectified
• floor tiles 60 x 60 cm
• wall tiles 60 x 30 cm

Elements and technology of the apartments
• windows – solid wooden, EURO profiles with triple glazing, apartments on the ground floor – glazing with safety glass, frame colour according to the architect of the project
• shading – external blinds on all windows with electric control, preparation for awnings and pergolas in the scope according to the project documentation
• window sills – laminated interior window sill boards
• preparation for installation – preparation for the connection of an automatic washing machine and a dryer
• in the kitchen area: blinded outlets of hot and cold water, sewer and wiring for the possibility of connecting the distribution to the sink, dishwasher and appliances

Heating
• heat source – for each building, a gas boiler
• heating – hot water
• floor convectors under French windows, flat panel radiators under windows with standard window sills, heating ladders with an electric heating rod + floor electric mats in the bathrooms
• penthouses – hot-water underfloor heating, heating ladders with an electric heating rod + floor electric mats in the bathrooms
domestic hot water – central preparation – storage water heaters for each building
Ventilation and air conditioning
• ventilation – decentralized ventilation – recuperation units with an enthalpy exchanger for heat and humidity recovery, ventilation air distribution in the soffits and floors of the apartments; central supply, crosstalk elements at the doors of the bedrooms and living rooms; wall (or recessed) heat recovery units with additional cooling in the apartments
• cooling – penthouses – split units
Electrical installations (wiring)
• heavy-current electrical installations – floor electricity meter switchboards; cabling design enables the smart control of elements and systems
• smart control – standard package includes the central switching of lighting and selected socket circuits (the exit button), the control of ventilation, heating, cooling and shading (external blinds)
• switches, sockets – according to the project
• low-voltage sockets – the socket of the common TV aerial in each room, in the corridor / chamber: low-voltage switchboard equipped with passive elements (possibility to fit a wi-fi router and a switch); a data socket in the rooms, an intercom (a videophone in the case of the penthouses), located at the entrance door of the apartment
• lighting fixtures – lighting fixtures in the apartments are not included in the standard delivery; the lighting of front gardens, balconies and terraces is part of the standard; lighting fixtures with economical LED sources, according to the architect's design
• TV system – digital terrestrial signal reception is provided + possibility of extension with satellite reception
• data – optical data distribution from the central switchboard to each apartment
• measurement – separate measurement of all media (water, electricity and heat) for each apartment
The penthouses are the subject of an individual interior design and they will be handed over in the so-called "white wall" standard and approved in the state listed below.
Floors:
• clean concrete / anhydrite floor, ready for laying the final floor covering (multi-layer wooden floor, tiles, carpet etc.)
Partitions and soffits (suspended ceilings)
• interior partitions according to the Catalogue Sheet
• soffits are not made
• plaster on all walls except bathrooms and toilets
Heating, HVAC, sanitary-technical installations
• central heating – completed functional hot water floor heating; in the bathrooms: preparation for the installation of electric mats under floor tiles
• HVAC (heating, ventilation, air conditioning) – a residential recuperation unit is installed, wiring after the unit is not made
• cooling – wiring to the positions according to the Catalogue Sheet – individual choice of units, space for the location of the outdoor unit specified
• sanitary-technical installations – needy wiring in the floors made according to the layout designed in the Catalogue Sheet, the remaining wiring can be led in the retention walls according to the individual solution of the bathrooms
Electrical installations (wiring)
• wiring terminated near the floor with a sufficient length reserve, allowing the variability of individual solutions
• at the entrances to the apartment or room, wiring is led to standard positions and terminated in a box
• the switchboard is equipped only to the needy extent
Doors
• Safety Class 3 entrance door and one door to the toilet
• Other interior doors are subject to an individual design
Fixtures
All pictures in the top' rezidence Pomezí, development project, their parts or accessories are only illustrative. This representation of the project, or any part thereof, or together with any information provided regarding the residential and non-residential premises in the project, is not an offer to conclude any legal action or a commitment or commitment to conclude such legal proceedings. The final external and internal visual appearance of the entire object as well as any part of it and the materials or products used may differ from the representation of the project on this website. The design of the project can be further refined or changed in the contractual documentation concluded with the bidder.

In the event of a dispute, the consumer is subject to out-of-court settlement of consumer disputes, the Czech Trade Inspection Authority, another body authorized by the Ministry of Industry and Trade in accordance with the Consumer Protection Act.