Penthous detail
Apartments N1B.4.2
5+kitchenette191,6m24th floor
This penthouse is the highest located rooftop apartment of the N1, which overlooks all directions. Layout 5 + kk offers a living room located in the roof garden with two outdoor seating on the terrace, which can be complemented by a swim-spa or jacuzzi on the adjacent grassy area. The lower floor also offers a lighted entrance hall with staircase and three separate private zones. Separate master bedroom with en-suite bathroom, dressing room and private terrace, and two children's rooms with a spacious bathroom and dressing room, as well as a separate studio with private facilities that can serve as a guest room or a generous study. This PENTHOUSE includes a spacious cellar and two parking spaces suitable for SUVs with the possibility of adding electrical charging.
Price of the apartments is garage parking places, cellar and VAT included.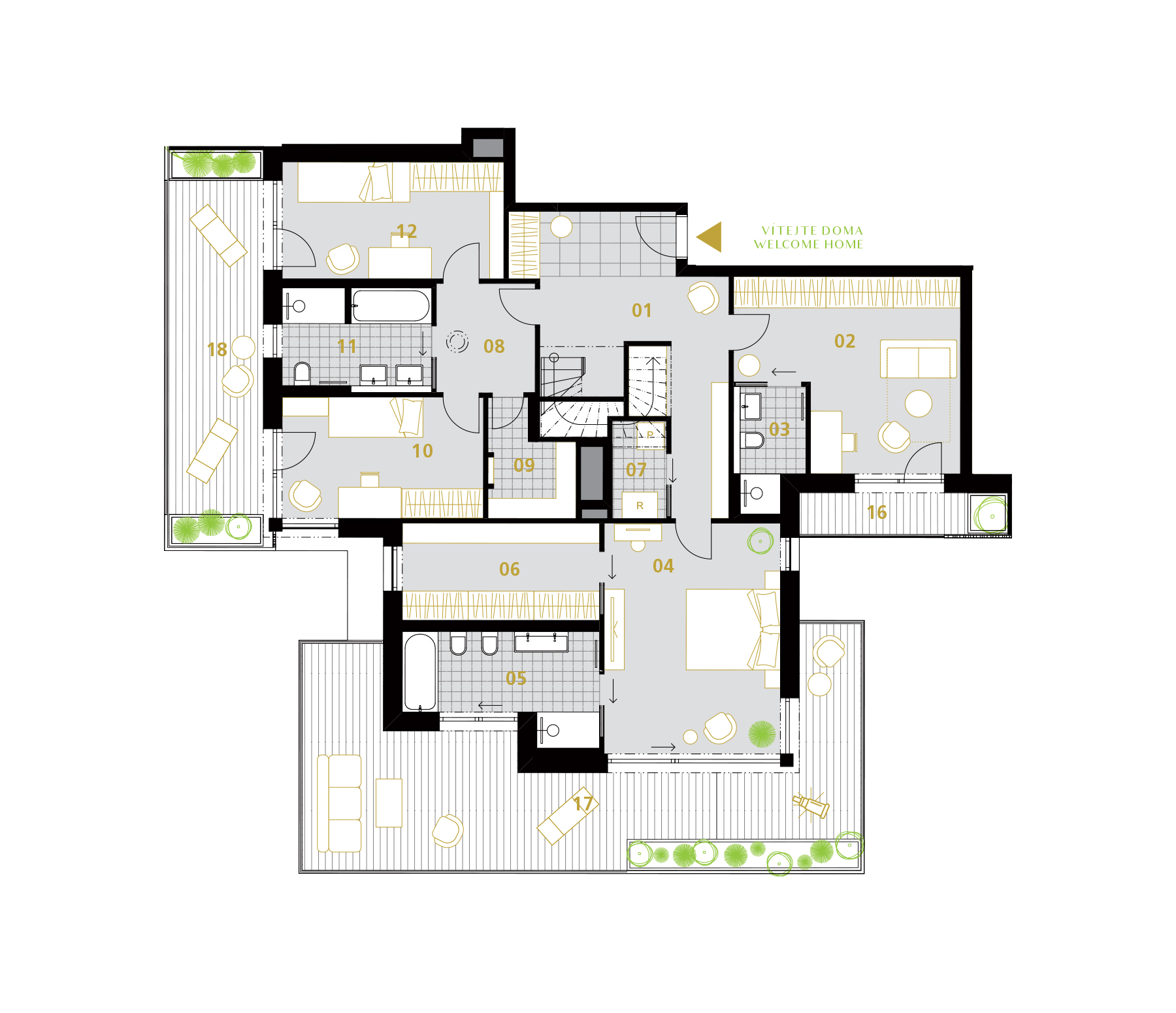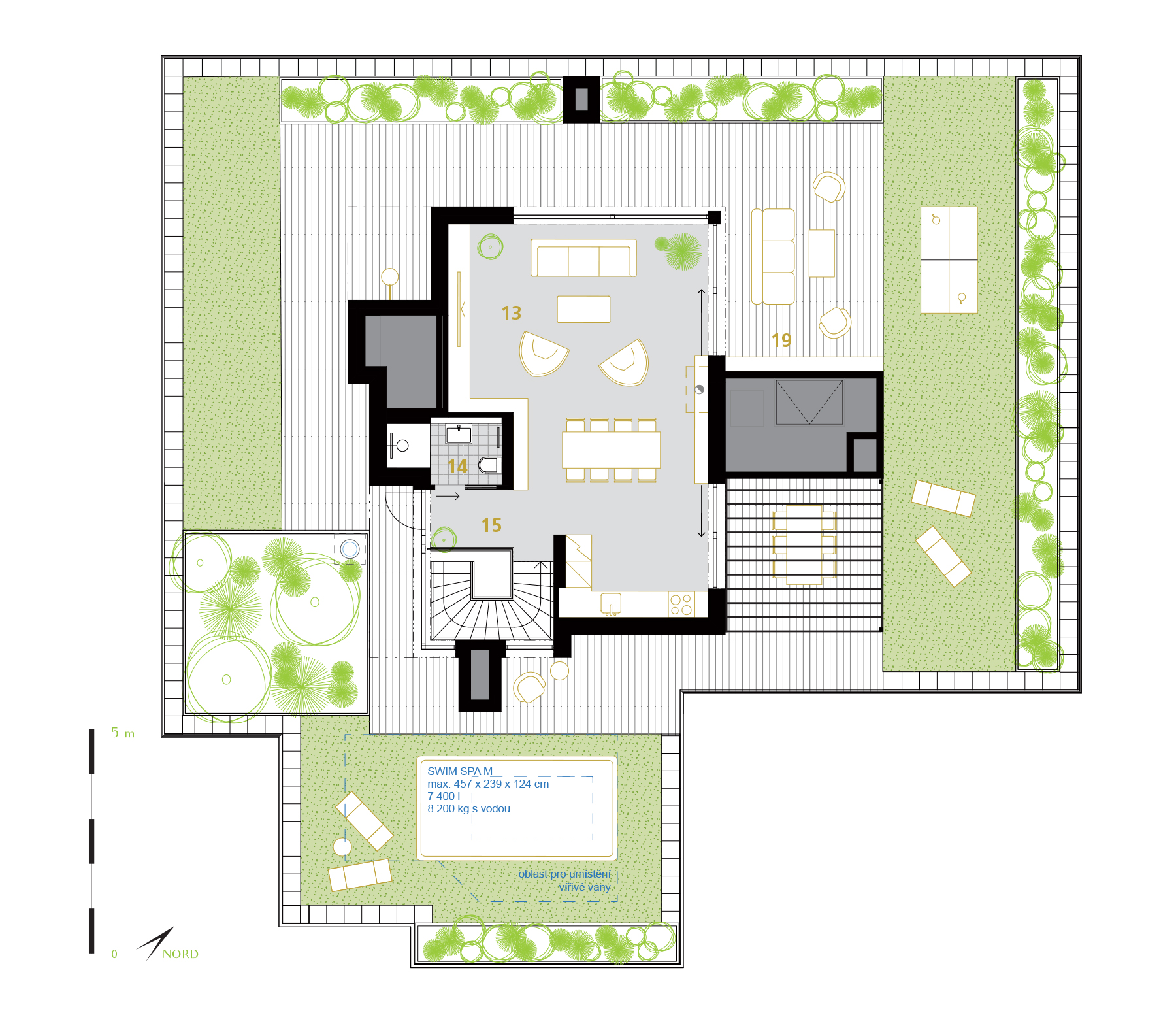 List of area
01
hall
20,9 m2
02
study
19,0 m2
03
bathroom
3,6 m2
04
bedroom
20,9 m2
05
bathroom
9,3 m2
06
cloakroom
9,7 m2
07
chamber
2,4 m2
08
corridor
5,4 m2
09
chamber
4,2 m2
10
room
12,6 m2
11
bathroom
7,3 m2
12
room
13,1 m2
13
living room + kitchenette
45,8 m2
14
bathroom
3,3 m2
15
corridor
2,5 m2
Usable area
179,5 m2
Floor area
191,6 m2
16
terrace
4,7 m2
17
terrace
40,7 m2
18
terrace
19,8 m2
19
terrace
274,5 m2
To each apartment unit belongs a cellar, a garage space or a parking slot.
Note: Areas of individual rooms are for reference only. The furniture and kitchen unit shown are not part of the apartment. The floor formatting shown is only a graphic symbol.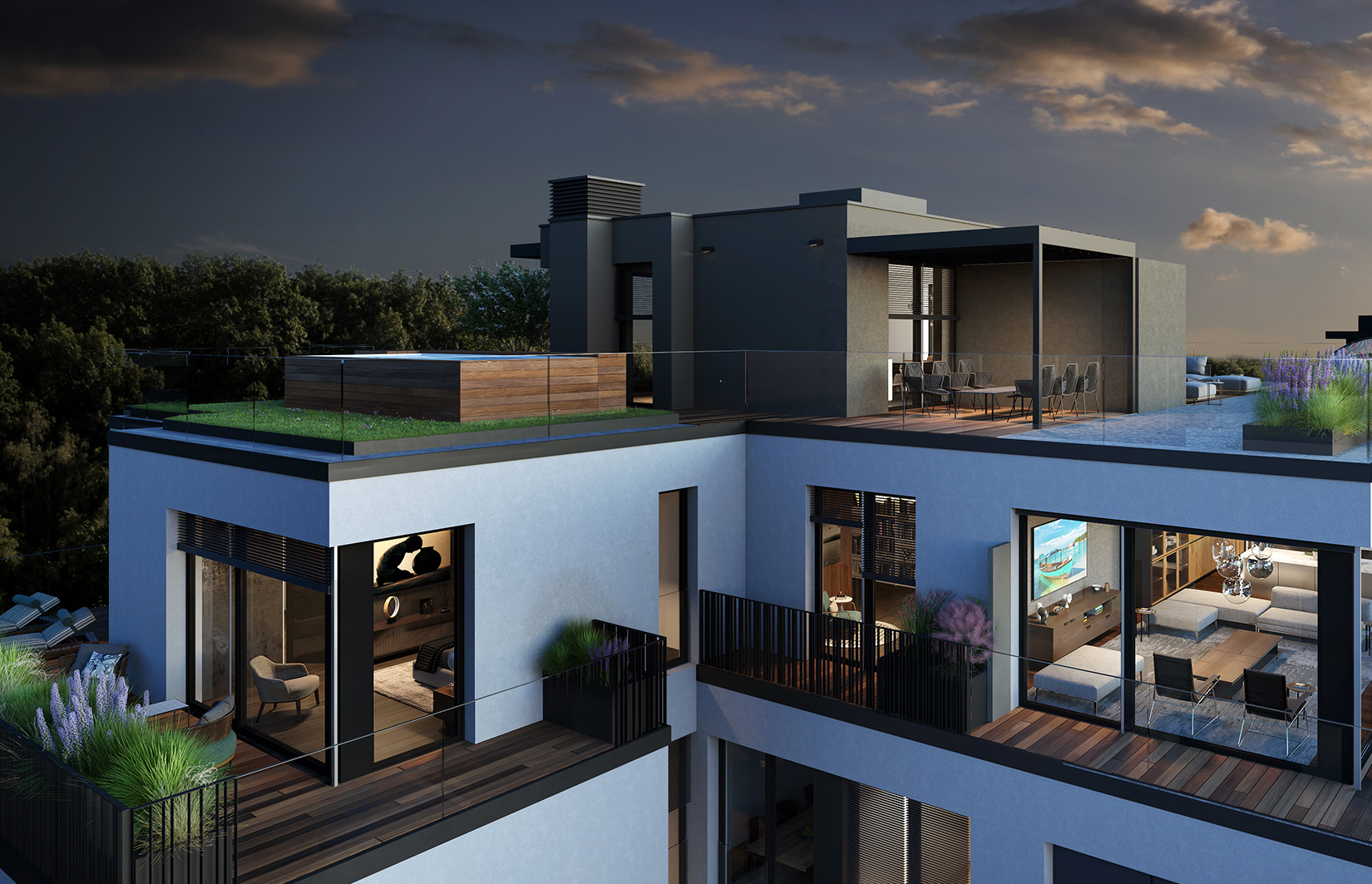 Swim spa on the roof terrace
The living room is located in the roof garden with an outdoor seating on the terrace, which can be complemented by a swim spa on the adjacent grassy area.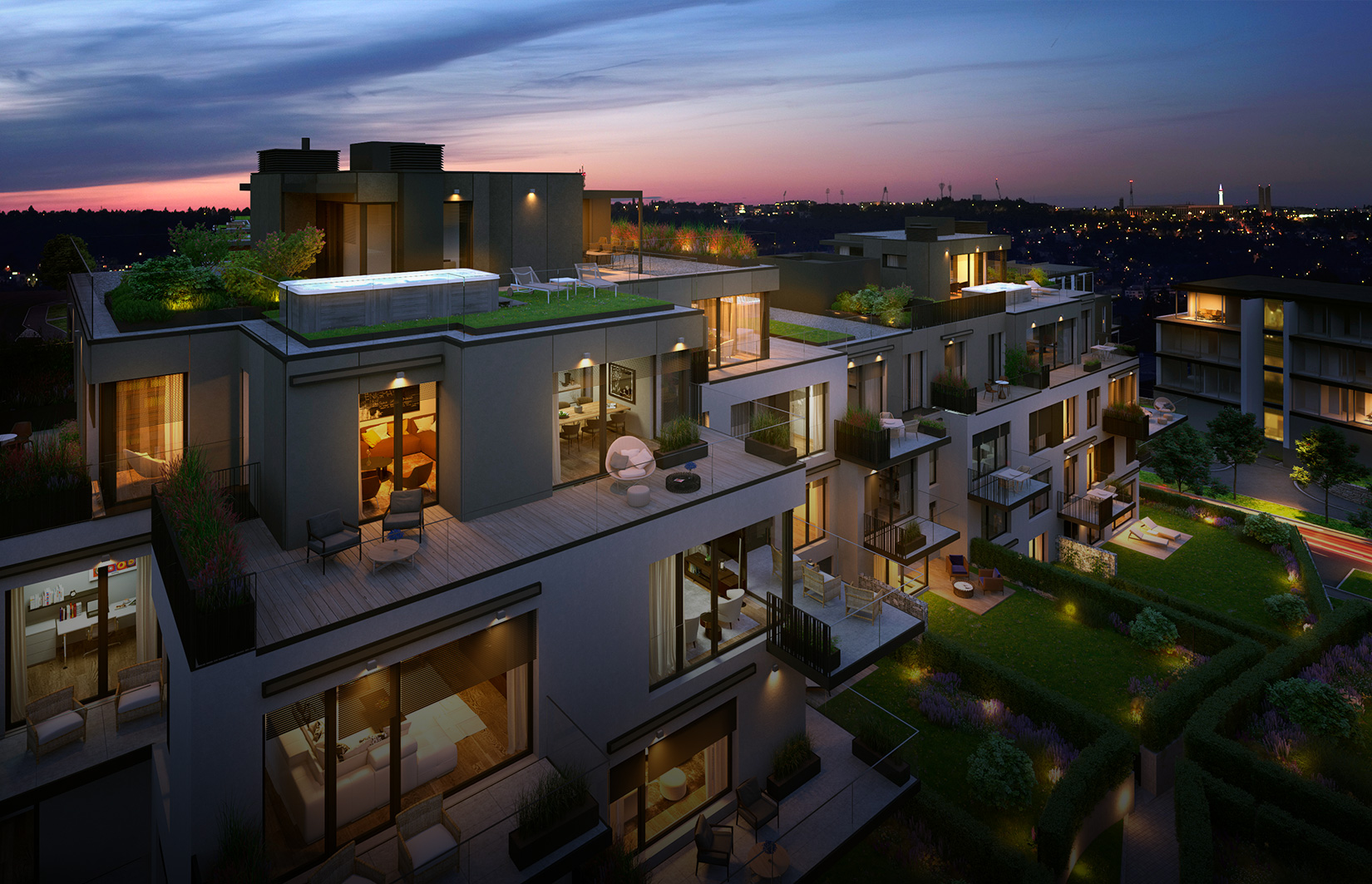 Beautiful views of Prague
This apartment is located on the top floor of Building N1 and it offers undisturbed views of the Prague skyline.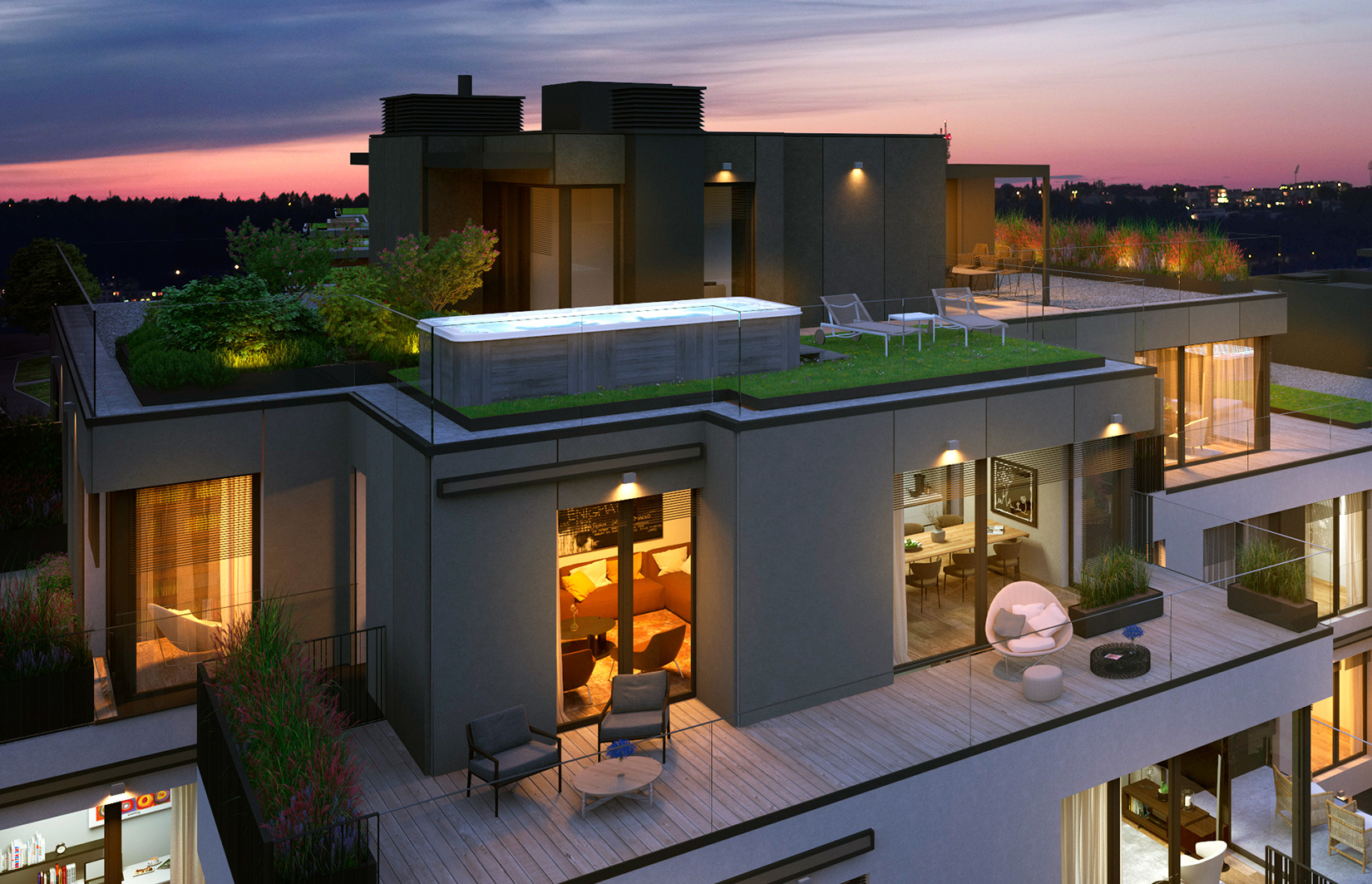 Sophisticated layout on two floors
This penthouse has an ideal 5+kitchenette layout with a very spacious living room in the roof pavilion and with four rooms on the first floor.